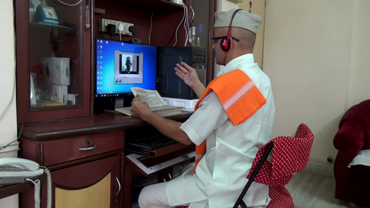 E – Learning
Nowadays, everyone is busy throughout a day while fulfilling his / her duties as a student, employee, owner, professional or housewife. However, many people find some time for their hobbies / doing the work which they like.
There are teachers / masters available who teach various Sanskrit scriptures to their students. But this type of learning requires one to be present at some particular place & time. Due to busy schedule & long distances involved in reaching a particular place, this type of learning is not possible for most of the busy people.
Sanskrit script is similar to Hindi / Marathi & anyone knowing Hindi or Marathi can read the text of Sanskrit. However, perfect pronunciation of the text is not that easy & it has to be learned from the experienced master / teacher.
Phonetics is an integral & important part of Philology. It is proved that many Sanskrit 'hymns', 'sukta' & 'mantra' are full of energies. So if it is pronounced perfectly & recited again & again, can gather a lot of positive energy, affecting the person involved as well as the surrounding. If pronunciations are wrong, it creates negative effects.
We are providing "E – Learning Platform" for all those people who are very busy in their profession / can't waste time in travel / want a suitable day & time of their choice / just want to sit at their house & learn. With personal E –Tution, you can learn to pronounce any Sanskrit 'sukta' or 'mantra' from Rigved in a proper & scientific way.
Following things can be learned on Facetime / Skype :
- Ganapati Atharvsheersh
- Shiv Mahimna
- Rudradhyaya
- Purush Sukta
- Shree Sukta
- Saur Sukta
- Brahmanaspati Sukta
- Vishnu Sukta
- Devi Sukta
- Manyu Sukta
- Hari Sukta
- Medha Sukta
- Anna Sukta
- Udak Shanti
- Shaanti Paath
- Sanskrit Saptshati
- Bhagwad Geeta
- Puja Ritual
- Rigved Samhita
- Anything of your choice
The advantages of this platform are ……
Your pronunciation of the actual text would be perfect
Flexible timing choice
Learning is possible just sitting at your home
No waste of time in tavel
Fulfillment of your inner wish
---